For many years I have been helping other writers when they have firearms-related questions. Pistols, rifles, shotguns, ammunition, holsters — if I don't know the answer to your question, I can probably find it for you. I want to help. I have given firearms-related lectures when I was a member of Sisters in Crime NorCal, and published articles in the newsletters of SinC NorCal, MWA NorCal, and PSWA.

My Firearms Bio

I served a little less than three years in the Army; 1963 in basic training (Fort Leonard Wood, Misery Missouri) and Language School (Monterey), and 1964-65 in northern Japan. Though it was "my war," I have never been to Viet Nam, nor served in combat.

My Army basic training included a week of rifle training with the M1 Garand, qualifying as Sharpshooter (rating levels: Did Not Qualify, Marksman, Sharpshooter, and Expert). My lifelong regret, minor though it is, is that I just missed Expert. On the last string of eight shots I nailed the first and most difficult at three hundred meters. Seeing that Expert badge within grasp, I ignored my excellent training and blew the next seven shots, falling a few hits below Expert. (Getting too excited has been a big problem throughout my life.)

The rest of my Army time was behind a desk, except for two summer camp-outs on my base in Japan. During the camp-outs we had to fire and qualify with our issued M14 rifles (an update of the M1). I again qualified at Sharpshooter level.

Around 1970 I became interested in self-defense and bought and sold a variety of pistols including .22, 25, and .45 calibers, but didn't get to shoot much.

In 1980 I met an engineer at work in Berkeley who was a lifelong shooter and active member of the board at Chabot Gun Club in the East Bay regional Park above Oakland. With his help, I became an active shooter and member of the Club Board and supervised the non-public pistol activities.

I had been following in gun magazines an organization called IPSC (International Practical Shooting Confederation) which sponsored national pistol matches aimed at self defense/police training, or "Practical" or "combat." Unlike most target matches, IPSC matches required that ammunition be full strength, and the contests varied, unlike the NRA-sponsored pistol matches which used target loads and never varied (number of targets, time, and distance).

In IPSC matches both speed and accuracy were included in scoring. Instead of fixed time limits, scoring was target hit points divided by the elapsed time used running the target course. Also the ammunition caliber minimum was full strength .38 special/9mm, with .44/.45 caliber favored over the less-effective .38/9mm in scoring hits on the target. The matches were "Practical" in every way, except that no one was shooting back.

I competed in my first "combat pistol" match at San Quentin in a match sponsored by members of the Los Altos Rod and Gun Club and other experienced shooters (both civilians and police) from the Northern California Pistol League (There were many jokes about the inmates holding the targets). I began learning to gunsmith, modifying and refining my pistols, shotguns, and rifles.

I quickly set up similar matches at the Chabot range and established Chabot standards for pistol handling safety. Shooters who did not follow safety rules (primarily where you point your gun, loaded or not) or obey range officer commands were immediately disqualified for the day. A repetition resulted in a permanent ban. We did disqualify a few (including a Sheriff — did we have balls, or what?) and ban one, but we never had a shooting accident of any kind during my tenure, though I did hurt myself with my stapler several times.

I am a Life Member of both the NRA (www.nra.org) and California Rifle and Pistol Association (www.crpa.org), was a member of the Northern California Pistol League, a founding member of the Bay Area Practical Shooting League, a member of the Los Altos Rod and Gun Club, the Chabot Gun Club, and a five-time graduate of Gunsite (www.gunsite.com) in pistol and shotgun.

Gunsite was at the time considered the best shooting school in the country. It may still be. My classmates were foreigners (Colombian police, Canadian farmers), U.S. civilians, U.S. police (highly motivated and SWAT), military, and Others, i.e., Spooks.

Spooks:

"Where do you work?" asks anybody.

"Department of the Army," answers the Spook.

A Marine Colonel at Gunsite once asked me where I worked. I said, " Lawrence Berkeley Lab, for D.O.E."
"Yes, but where do you work?" he replied.

The Gunsite instructors were the best, and the students weren't shabby. A classmate of mine in both advanced pistol and shotgun was "Naish," Doctor Ignatius Piazza (see 499 Class photo). He is now founder and owner of Front Sight Firearms Training Institute near Las Vegas. (www.frontsight.com)

My instructors at Gunsite were all dedicated former/active police and military. One of those who made a mark on me is Ed Stock.

(see class photo and www.gunsite.com/main/instructors/ed-stock).

Ed guided me through my advanced pistol class. Now, I ask you: how many of you have ever had a teacher for anything who has his own action figure?
ED STOCK TALKING HERO ACTION FIGURE

Custom Made, Talking Action Figure


Who's Ed Stock? With over 25 years experience in the use of firearms andexplosives, Ed's well known in the combat arms world. A true professional, his resume includes: Pistol, Rifle and Carbine instructor, Gunsite Rangemaster, and U.S. Army combat veteran. This fully-articulated action figure commemorates Ed and all others who help keep us safe. Comes with pre-recorded message or record your own on the built-in 20 second microchip. Dressed in urban camouflage pants and black "Gunsite" shirt, handgun included. Makes a great gift.


SPECS: Molded plastic. 12" (30cm) high. 9.9 oz (281g) weight

(www.brownells.com/.aspx/pid=24834/Product/ED-STOCK-TALKING-HERO-ACTION-FIGURE )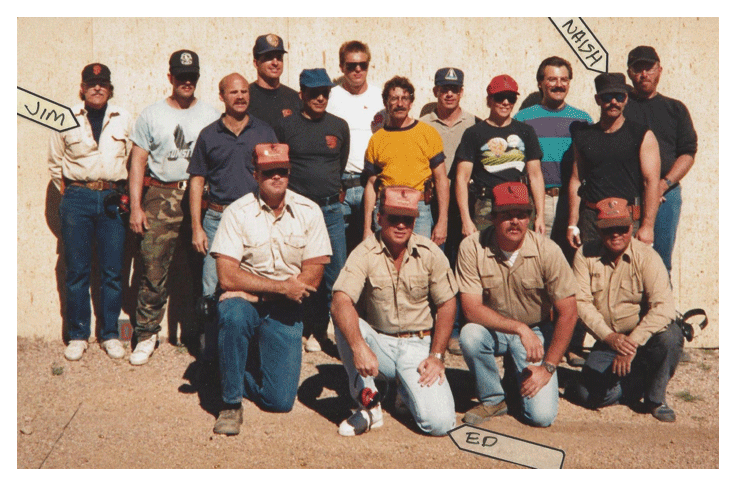 Gunsite Class 499 — Special Pistol October 1990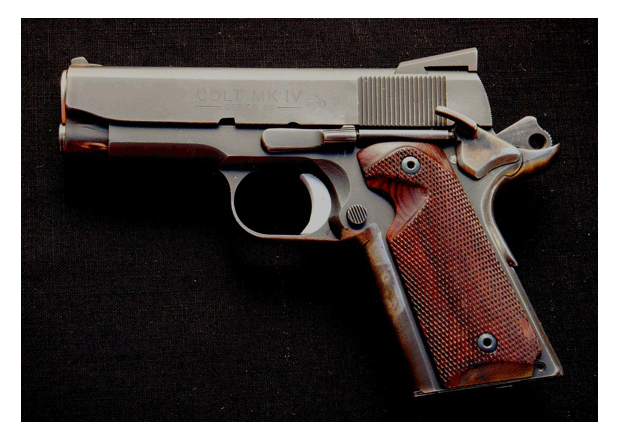 Colt Officer's Model, Series 80, .45 ACP


Mossberg 500 pump 12 GA


Benelli Super 90 semi-auto 12 GA

I also own a number of rifles and carbines in calibers from .22 through .45, including a Garand.
ARTICLES available for download (PDF format):